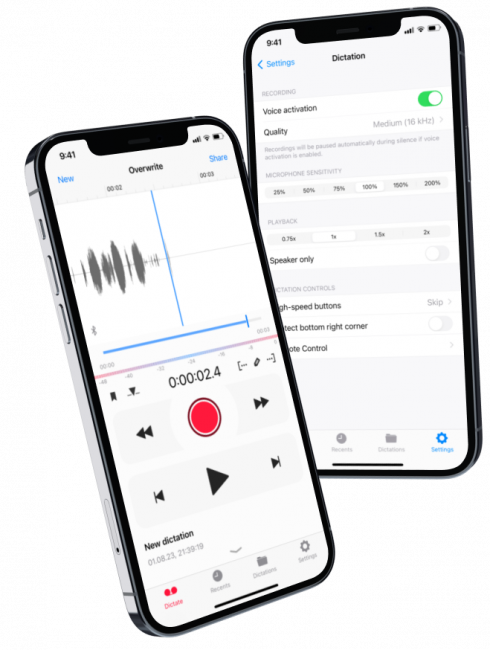 The business version of the successful dictation app Dictate⁺ for use in companies and public authorities.
Enable your team to record dictations in excellent sound quality and share them easily, using transmission paths encrypted according to the highest standards.
Advantages of Dictate⁺ Enterprise
Simplify your billing process and manage all your Dictate⁺ Enterprise accounts from one central location. With centralized billing, you can easily keep track of all your licenses and bundle your payments.
Dictate⁺ Enterprise offers volume discounts for companies starting with 5 licenses. Take advantage of our tiered pricing model and get a quote to fit your company's individual needs. Contact us to receive a personalized quote.
This makes setting up new users a breeze: With one configuration file, you can easily set up and enforce sharing destinations for all devices. This feature saves you time when setting up new users and reduces the risk of errors.
Use pre-configuration to ensure that dictations are sent only to approved destinations and using approved sending methods.
Rollout of Dictate⁺ Enterprise in your company
Available via Apple Business Manager to fit into your existing infrastructure.
Easy installation via Mobile Device Management (MDM) or download code.
Frequently asked questions
Streamline your team's workflows and increase productivity with Dictate⁺ Enterprise now.
We will be happy to advise you in finding the right solution for your company.