Get your own personalized dictation app with the best in class dictation functionality of Dictate⁺.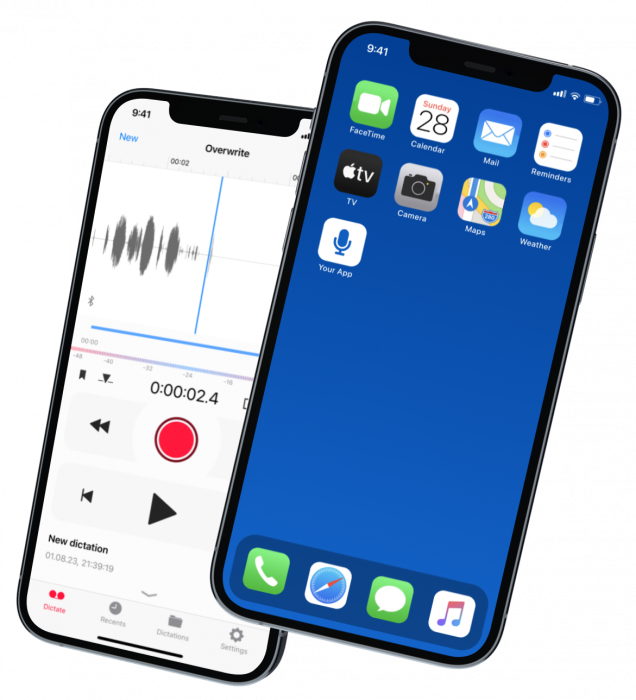 Enhance your corporate identity by offering a custom dictation app with your company's name and logo.
Extensive Dictation Functionality
All features of the Dictate⁺ app for professional dictation like overwrite and insert are included, allowing the full record length of up to 24 hours.
Safeguard sensitive information with up to two pre-defined sharing destinations. This ensures dictations are securely sent only to approved destinations, ensuring confidentiality and maximum security with AES-256 encryption.
Get your own dictation app with the stability and experience of the leading app in the field at a fraction of the price of a custom-developed app.
Enhanced Client
Experience
Offer a branded best in class dictation app that empowers your clients to easily record high quality dictations and provide a great user experience.
Efficient Workflow Integration
Simplify the process of dictation submission for easy handovers between you and your clients for timely and accurate processing.
Streamlined Process to Your Dictation App
We work closely with you to create your personalized dictation app. Simply provide us with your app name, icon, and pre-defined sharing destinations.
We assist you with setting up and managing your App Store account and deliver updates directly to Apple for you, for a very affordable flat rate fee.
Stay up to date with the latest features and enhancements. We ensure that all updates to Dictate⁺ are seamlessly integrated into your app version, keeping your app current and packed with innovative functionality.
Our pricing is flexible and tailored to your specific needs, scaling with the number of your users. Contact us for further information and personalized quotes.
Take the next step to revolutionize your dictation workflow.
Get in touch with us today to learn more, request personalized quotes and start the process of creating your very own branded dictation app.